Ramanand Swami Meets Nilkanthvarni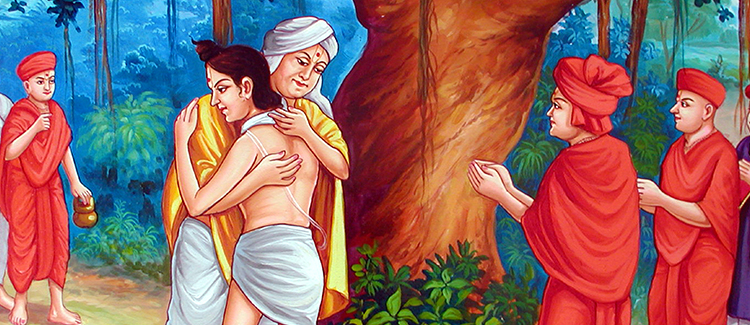 The month of Vaishak was completed staying in Lojgam. Ramanand Swami seated in a chariot took leave from all the devotees in Bhuj and came to Piplana to the house of Narsimha Brahmin. They sent their messenger Kuvarji to lojgam. The messenger told muktanand swami that Ramanand Swami have come to Lojgam and have called all of you. During that night all the saints set out for Piplana from lojgam.
Everyone started walking quickly but Nilkanth feel on the ground. So other saints came to them and after pressing their feet requested them to go in yoga. Once in the yogic state, all the saints then had to run behind Nilkanth. Next to Piplana town, there is a river called Ojat which was flooded but god walked over the waters. The rest saints crossed the river in a boat. On the 12th day of Jeth Vad, they reached the house of Narsinh Brahmin.
Nilkanth Varni did the Sastang Pranam to Ramanand Swami as they first met. Swami then hugged Nilkanth with both arms and looked at them constantly for two minutes. Then muktanand swami describes everything to Ramanand Swami, Varniraj also said to Ramanand swami that after seeing them, their mission of life has been accomplished. All the saints were greeted and offered with milk, sugar crystals, penda and banana. On this earth the meeting between Ramanand Swami and Varniraj became quite memorable in the history of the Sampraday.