Shree K.S. Swaminarayan Temple Mombasa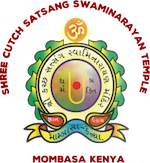 P.O Box 81117
Haile Selassie Road
Mombasa, Kenya
Tel: +254 41 223339
Web: scsstmsa.org / Email: [email protected]
Local Date and Time:
Information
Opening & Aarti Times
Pictures
History
The first meeting for the proposal to build the temple was called on Wednesday 12th May 1957 at Karsanbhai Premji Bhudia's residence. After a series of meetings the decisive meeting was held on 6th June 1957 with an attendance of approximately 40 to 50 Satsangis. It was anomalously decided that the temple be built with reference to Shree Cutch Satsang Swaminarayan Temple's constitution under the Flagship of Shree Swaminarayan Temple Bhuj - Kutch (Nar-Narayan Dev). A general meeting in regards to the above was called on 7th July 1957 at the Shree Cutchhi Leva Patel Samaj. The project was anonymously agreed by all and by the Lord's grace funds started flowing in from the first day. A record of KSh. 178,478.25 was collected on that very day and rising to KSh. 201,052.00 by the end of the week.
On 22nd July 1957 a general meeting was called to decide as where the Temple should be located. Shree Karsanbhai Premji announced that Shree Visrambhai Samji of Dahinsra had a plot valued at 138,000.00 on Station Road opposite The Patel Samaj. The proposal was hailed with the name of the Lord even before Karsanbhai had finished his word.
On 18th August 1957, the Aarshivad Patra (Blessings) from Bhuj was read out in the evening sabha. Shree Muljibhai Devraj of Surajpur did the ground-breaking ceremony with a kind donation of KSh. 5,001.
The Murtis' of Shree Sahajanand Swami, Harikrishna Radhakrishna and NarNarayan Dev were prepared in Bhuj. The Murtis' arrived at Mombasa port on 19th November 1959. The Murtis' were installed on 1st February 1960 after a Bhagvad Parayan, Vishnu Yag done by Shuklaji Jayashankar. The Provincial commissioner did the official opening of the temple building on 30th January 1960. Shree Laxmidas Madwani of Kenya sugarcanes did the flag hosting ceremony on 1st February 1960.
Details unavailable